Criteria
The Leadership Northwest Missouri Citizenship Award is presented annually to a Northwest Missourian that exhibits the following attributes of citizenship:
Inspires Individuals to Grow
Strengthens Self-Esteem
Promotes Appreciation of the Rights and Responsibilities of Citizenship
Develops Responsible, Knowledgeable Citizens
Demonstrates Community Service and Volunteerism
Mentors Our Future Leaders
Nurtures a Volunteer Spirit that Serves Our Families, Schools, Churches and Communities
Teaches Others How to Overcome the Odds and Continue to Grow
Serves Those Among Us Most in Need
Nominations must come from Leadership Northwest Missouri Alumni or current class participants, but the individual being nominated can be anyone in Northwest Missouri, alumni or not, that exhibits the attributes of citizenship indicated above.
---
2023 Recipient – Carrie Watkins
During the short time in her position as Community Engagement Director for Voices of Courage Child Advocacy Center, Carrie Watkins has worked to bring teams together to benefit children and families all over Northwest Missouri. Carrie's role is to coordinate team investigative efforts in cases of child abuse and neglect. In order to accomplish this for our 9-county coverage area, she has had to build relationships with individuals from law enforcement, Children's Division, prosecutor's offices, juvenile offices and medical personnel. That means more than 15 law enforcement agencies, 3 Children's Division teams, 9 prosecutor's offices and 3 juvenile offices. Her ultimate goal is to make sure each team functions to the best of its ability so that child abuse cases can have best outcomes for kids. Carrie is making a big difference in kids' lives both in her role as a Forensic Interviewer as well as her role as our Multi-Disciplinary Team Coordinator. There are just some people who step up, volunteer, speak up and get things done. Carrie is one of those people. In an office situation, that translates into leadership. She leads by example, is a doer and a helper and we look forward to working with her every day at Voices of Courage. Carrie is also an alum of the LNWMO Class of 2023.
---
2022 Recipient – Jackie Cochenour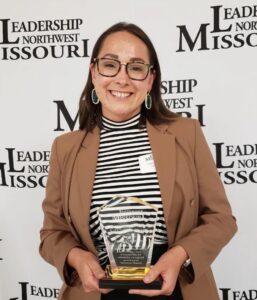 Jackie Cochenour is a wife, mother, entrepreneur, wellness advocate, warrior, and catalyst for change in Northwest Missouri. She currently serves as Director of the Northwest Missouri Children's Advocacy Task Force in Maryville, MO after she, her husband and the Nodaway County Sheriff's Office saw a need in Northwest Missouri for protecting and advocating for children and wrote a grant to secure funding. Jackie secured overwhelming support from the Nodaway County Commissioners to provide a physical location for the task force and recently opened the doors to the new center. Within her role, Jackie meets with victims as a forensic interviewer, works directly with school districts and their communities to reduce violence, partners with local community organizations and agencies to serve children and families, educates the community on prevention and protecting children from sexual abuse, and provides our region's school districts with trainings for staff and 6-12th grade students on sexual abuse prevention and active bystanding. She also serves as a strong voice for changing red tape barriers in bureaucracy systems during a time of need where advocating for child rights and wellbeing requires organizations to pivot what has been and move towards what is and will continue to be required for the future. Jackie plans to see the Northwest Missouri Children's Advocacy Task Force outlive her and serve Northwest Missouri for many years to come. She is also an alum of the LNWMO Class of 2019.
---
2021 Recipient – Steve Schieber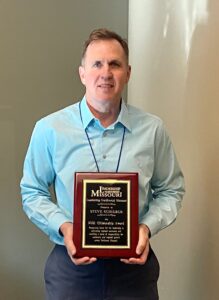 Steve Schieber, Chief Executive Officer of Saint Luke's Health System's Critical Access Region, has achieved success professionally and has continued inspiring countless individuals, been involved with an array of community groups and projects, and mentored/developed multiple leaders. Additionally, he has led multiple initiatives to enhance and grow health-related services within the Saint Luke's Critical Access Region, which provides valuable health care services to thousands of citizens in rural areas, where access to quality health care would otherwise be limited.
Steve has contributed to the community through multiple roles. He served as past president of the board for Great Northwest Day at the Capitol and Leadership Northwest Missouri. He is a former board member of the Missouri Rural Health Association and a former member of the Missouri Advisory Committee for the U.S. Commission on Civil Rights. Steve is involved in Rotary, is the former chairman of the Chillicothe Area Chamber of Commerce, and currently serves on the board of the Trenton Area Chamber of Commerce. Steve is also an alum of the first class of LNWMO, Class of 2001.
---
2020 Recipient – Anna Barlow
Anna Barlow, Carroll County Chamber Director, is an incredible leader. As captain of the detrimental "Covid shut down ship" that hit, she willingly led the charge of area businesses and leaders through the most troubling time in recent history. Her leadership was put to the test, but she didn't fall short of the victory when the community was able to see a light at the end of the tunnel by not stalling out or declining like others. She is tiny but boy is she mighty. From serving on various boards to donating time to her church, YMCA, local hospital and city park, Anna has a vision for this community. Her vision is to make everyone she meets a better person, every business in this community successful and to surround herself with like minded individuals. Thank you, Anna for all the hard work you put into our community. Anna resides in Carrollton with her husband, Lance and children Carter and Kate. She is an alum of the LNWMO Class of 2020.
---
2019 Recipient – Granville "Chip" Holman IV
Granville "Chip" Holman IV is the Mayor of Gower, MO and an American Family Insurance Agent. Chip displays his citizenship by spending countless hours improving his community. He has been instrumental in starting many new events and fundraisers in Gower. Chip supports the youth in the community by attending sporting events, fundraisers, and other activities at the school. Chip worked to have the school mascot added to the water tower and the football field. Chip served his country as a United States Marine. His patriotism continues as he honors Veterans. He assisted with the Gower Veteran's Memorial and led Gower to become a Purple Heart City. When he notices a Veteran in public, he always stops to tell them thank you. His determination to enhance his small town will hopefully inspire others to take care of their community. To be a good citizen, you must truly care for others and Chip truly does. He is an alum of the LNWMO Class of 2019 and resides in Gower, MO with his wife, Pamela.
---
2018 Recipient – Arnie Kreek
Arnie Kreek has had impact on Northwest Missouri through his support and involvement in many regional organizations and because of his commitment to serving and empowering others.
Recently retired from the Northwest Missouri Regional Council of Governments in Maryville, Arnie served as Economic Development Planner since 2005 where his duties included economic development and economic facilitation for a five-county area: Atchison, Gentry, Holt, Nodaway and Worth counties. He served for many years as Secretary/Treasurer of the Northwest Roundtable, Inc., an association of economic developers representing twenty-five counties in Northwest Missouri.
Arnie is a Leadership Northwest Missouri Alum from the Class of 2012. He is an Eagle Scout from Troop 81 in Oregon, MO. He has assisted scouting through serving in many capacities including Pony Express Council Executive Board Member. Playing the trumpet at military funerals is another way Arnie serves the region. Once he drove over 300 miles to play "Taps" at a memorial service for a sailor who had served with his father at Pearl Harbor; doing this to pay his respect and represent his family.
Arnie Kreek is the epitome of servant leadership. He exhibits what it is to be an outstanding citizen. He resides in Oregon, MO with his wife, Kathy.
---
2017 Recipient – Rodney Hummer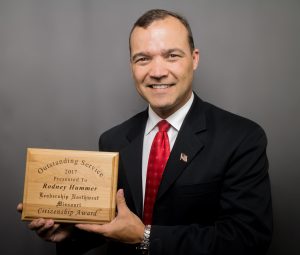 Rodney Hummer has a gift for recognizing others' gifts. Not only does he recognize others' gifts, but he will do everything he can to help them shine and share those gifts with the world. When Rodney is involved in something, he is all in and he devotes the time, heart and energy needed to make it successful. He is frequently heard saying, "I am on it."
Rodney is actively involved in the community through volunteerism and he serves on numerous boards and committees. He is not interested in doing good deeds for the attention or for a pat on the back, but for the simple fact that serving others is the right thing to do and it fulfills his sense of purpose.
Rodney and his wife, Lisa, fostered and loved numerous children over a span of 12 years, ultimately adopting one of the children as their own. Rodney and Lisa have three daughters and one son and his family is very important to him. He enjoys playing an active role in his kid's lives, particularly with the Boy Scouts of America as a Scout Master for Troop 60. Rodney is a proud Veteran of the United States Airforce. He is committed to improving the lives of Veterans by advocating for their rights and the services available to them.
Rodney has an incredible work ethic and is notably passionate about his role as the Director of Development and Community Engagement with Northwest Health Services. He believes in the mission of everyone having access to affordable healthcare and his hard work and efforts do not go unnoticed. His energy and passion radiate through his work and he brings that positive energy to all of those around him. Rodney is also an alum of LNWMO, Class of 2007.
---
2016 Recipient – Blake Riley
Blake Riley is a hard working individual who moved his family back to his hometown of Carrollton, MO to not only raise his family in a small Northwest Missouri community but to detour his turf from becoming a ghost town. With the decrease in local businesses and population over the last twenty years, Blake has dedicated himself to many boards and committees to try and make this a place where Carrollton High School alumni want to return and raise their families.
After pharmacy school, Blake and his wife Amanda, both 2000 graduates of Carrollton High School, moved back to Carrollton in August 2008 and purchased a local independent pharmacy.  Blake has taken a small pharmacy that was suffering and turned it into a thriving business that now employs over ten employees. Blake recognizes strengths and weaknesses in his employees and co-workers and isn't afraid to address them head on. Whether Blake is encouraging someone to be better by drawing out the strengths in his employees or giving internal goals to an employee who may be struggling in their tasks, Blake will make sure he has provided the best opportunity for that individual to grow and succeed. Blake recognizes the bigger picture and finds if he hires, trains, and grows the best employees not only will his day to day tasks run smoother, Hometown Pharmacy business will grow. He is molding better citizens for the Carrollton community.
Blake has served on the Carrollton Country Club Board, Carroll County Memorial Hospital Board, the Carrollton Chamber of Commerce, Economic Alliance and the Carroll County Area YMCA. Blake was on the original development committee that dreamed the thoughts of having a YMCA in Carrollton. Blake spent many volunteer hours organizing the right strategy, grooming the right citizens, and presenting the idea to the community. In 2012, Carrollton raised the $500,000 requirement set by the YMCA of the USA to be an established and chartered YMCA. The YMCA has four core values: Caring, Honesty, Respect and Responsibility and Blake exemplifies all of these values. He is a business role model as well as a spiritual role model and very deserving of the LNWMO Citizenship Award for 2016.
---
2015 Recipient – Deb Powers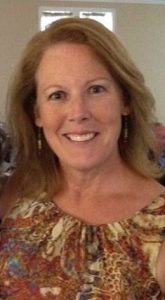 Deb serves as Executive Director and Co-Facilitator for Leadership Northwest Missouri, a leadership development program to encourage and support the emergence of leaders in the region.  She spent several years creating healthy community initiatives for a 30 county region in four states, predominately Missouri.  Past experience in the small business development arena, working with higher education on the delivery of courses via interactive TV, in the office of admissions at Northwest Missouri State University and ten years as a travel agent.  Deb's most recent employment has been serving as the Chief Brand Officer for MERIL – Midland Empire Resources for Independent Living.  Deb serves on the Northwest Missouri Enterprise Facilitation Board and has been involved with the organization since 2004 when NWMEF was just a dream of a group of visionaries called "Sparks of Hope."  Deb has served as Board Development Chair and continues to assist as a member of the Board of Directors, the Resource/Facilitation Board and the Mentoring Committee.  Deb graduated from Leadership Northwest Missouri in 2001 and from the Doniphan Leadership Institute, Pryor Leadership Center at William Jewell College in 2009.
Deb received her Bachelor of Arts degrees in Business Administration and Sociology from William Jewell College, Liberty, Missouri and her MBA from Northwest Missouri State University, Maryville, Missouri.
---
2014 Recipient – Daniel Savage
Born and raised in Chillicothe, North Missouri Center for Youth & Families founder and Executive Director Daniel Savage has spent his entire professional career in the non-profit sector. After attending the University of Central Missouri in Warrensburg, Daniel worked as a case manager and intake coordinator for Show-Me Christian Youth Homes. In 2006, he began working for the Boys & Girls Clubs of West Central Missouri as the LaMonte Unit Director. Seeing an opportunity to make a difference in his hometown, Daniel and his wife DeAnna, moved back to Chillicothe where he served as Youth Director of the House of Prayer Rescue Mission. While serving at House of Prayer, Daniel began envisioning a youth development organization and family support agency. This, with the help of a board of directors, led to his creation of North Missouri Center for Youth & Families. He enjoys being active in the community, serving as board president and director of Camp Rainbow for Exceptional Children, council member for the University of Missouri Extension, board member of Second Harvest Community Food Bank, and steering committee for the Chillicothe Young Professionals. In his spare time, Daniel enjoys working on the farm with his uncle and cheering on the Royals. Daniel is married to DeAnna and together have one daughter, Maddie Mae. He is an alum of the LNWMO Class of 2013.
---
2013 Recipient – Brenda Williams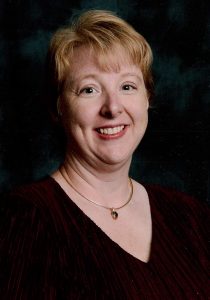 Brenda Williams continually inspires people around her to become active in their own lives. She fosters growth of those around her making our region richer. Her passion for our region is evident by the time and effort volunteered in many organizations through the years as well as continued support of Leadership Northwest Missouri.
Brenda uses all of the core leadership principles in her life.
She models the way by supporting the youth of the region.
She inspires a shared vision by knowing current issues and presenting thoughtful solutions.
She challenges the process to make sure that any activity she is involved in has been researched and aligns best possible outcomes as the solution.
She enables others to act by continually supporting self-discovery and growth.
She encourages the heart by identifying the strengths in people and providing opportunities to her staff and children to better themselves.
Some of her contributions to our region are:
Officer and Treasurer, Big Brothers, Big Sisters of St Joseph, 2009 – Current
Treasurer/ Secretary, Pony Express Council, Pack 43 Cub Scouts, 2009 – Current
Board Member, Big Brothers Big Sisters of St Joseph, 2008 – Current
4H Project Leader, Kountry Kids, 2007 – Current
Cub Scout Den Co-Lead, 2007 –  Current
Officer and Treasurer, New Harvest Southern Baptist Church, 2006 – Current
Treasurer, Agency Baptist Church, 2006 – Current
American Red Cross, Midland Empire Chapter, 2003 – Current
Leadership Northwest Missouri, Class of 2007
St. Joseph Chamber of Commerce member, 2004 – Current
---
2012 Recipient – Steve Holt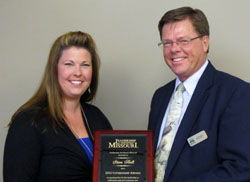 Steve Holt, Director of the Northwest Missouri State University Small Business and Technology Development Center (SBTDC) in Chillicothe and Co-Chairman of the LNWMO board of directors, received the Leadership Northwest Missouri Citizenship Award for his role in building responsible citizens, fostering community service and mentoring future leaders, among other duties. Steve is an alum of the LNWMO Class of 2007.
"As a community we face a lot of challenges … (including) the loss of population that has been a long-term trend for rural areas in the State of Missouri," Mr. Holt said. "It really challenges leaders to come up with ideas on how to do more with less and to make our region attractive to people to live, work and play in."
---
2010 Recipient – Bev Maltsberger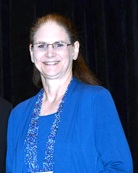 Bev Maltsberger, Extension Community Development Specialist, was presented the 2010 Citizenship Award by the board of Leadership Northwest Missouri during Leadership Northwest Missouri's 10th Anniversary Celebration Gala and Graduation of the Class of 2010. Bev served as a board member from 2002-2010. She helped develop the Leadership NWMO curriculum based on the Extension EXCEL model and is herself a 2002 graduate of the program.  Under her leadership as board president in 2008-2009, the program became an independent 501 (c)(3) not-for-profit organization. She serves on the Issues Committee for Great Northwest Day at the Capitol, the largest regional legislative event conducted in Jefferson City.
Bev has touched the lives of many people and helped them to improve their homes, environments, and communities. Some of her greatest impacts are in the area of water quality and watershed education, leadership development, emergency preparedness and cultural diversity.
---
2009 Recipient – Susan Cooper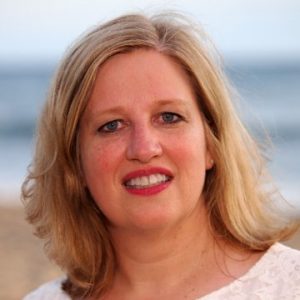 Susan Cooper is the owner of S.E. Cooper & Associates certified public accountants. S.E. Cooper & Associates provides business and personal accounting and tax services to clients throughout our region. S.E. Cooper & Associates provides services their clients do not want to do, do not have time to do, or do not have the expertise to do. In doing so, a collaborative team is formed with the client's management.
Susan believes that everyone can achieve what they want to achieve and supports her associates by providing the tools, encouragement and environment to grow to their potential. Numerous college interns have been mentored by Susan during their formal education by providing real world business experience working with clients. Through these experiences they develop the necessary people skills to work effectively with clients and the personal confidence that allows them to apply their formal educational knowledge to resolve specific client needs.
Susan's volunteerism is an example for her associates to emulate. Susan has served on her church's finance committee for many years; is a financial advisor to the Board of C3 Missions International; has helped numerous not for profit groups achieve 501(c)(3) status (including Leadership Northwest Missouri); serves on the Board of Heartland Financial Concepts, a not for profit group providing education on financial responsibility from a biblical point of view; and offers her CPA experience to assist Northwest Missouri Enterprise Facilitation clients with their financial planning for potentially starting a new business.
In her personal and professional life, Susan adheres to the CPA Council's tenants of integrity, ethical behavior, professional competence, objectivity, professional independence, and public trust. Respect for others, honesty, and a zest for life with a hearty laugh round out the person who is Susan Cooper.
---
2008 Recipient – Dr. Tim Crowley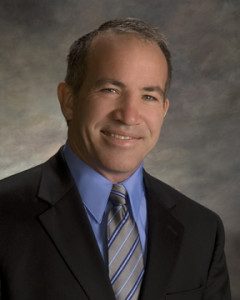 Dr. Tim Crowley, Director of the Counseling Center at Northwest Missouri State University, was awarded the Leadership Northwest Missouri Citizenship Award during graduation ceremonies for the 2008 Leadership Northwest Missouri class.
Dr. Crowley was selected to receive this honor because of his involvement in the region and his work with every Leadership Northwest Missouri class, except one, since 2001. Leadership Northwest Missouri classes begin with an overnight retreat where Dr. Crowley focuses on the challenging task of bringing together twenty plus regional leaders each with different perspectives and returning them to their communities a short forty-eight hours later as a team, with long lasting friendships already forming, ready to tackle the opportunities that exist in northwest Missouri.
Lurinda Turner, Leadership Northwest Missouri Advisory Board Chairman, said it is very fitting that Leadership Northwest Missouri chose to recognize Dr. Crowley for his involvement with the program and the region. "Tim's philosophy of "It's all possible!" has had a significant impact our on region through the lives and actions of our graduates long after they complete the program."
Dr. Crowley holds a doctoral degree in Psychology with an emphasis in Stress Management and Peak Performance. He works with Fortune 500 companies, businesses and other organizations to facilitate change, manage stress, create highly effective teams, improve customer service, and develop visionary leadership skills. He has taught and works at the university level and has embraced the opportunity to assist each Leadership Northwest Missouri class in determining how they can positively impact their lives, communities, and our region with passion and purpose.
---
2007 Recipient – Shellby Hendee
Mr. Shellby Hendee, Development Director for the City of Cameron, recently received a big surprise at a Cameron City Council meeting. Members of the Leadership Northwest Missouri Advisory Board presented him with the 2007 Leadership Northwest Missouri Citizenship Award. Hendee was selected to receive this honor because he actively promotes regional thinking for projects and addresses concerns of northwest Missourians throughout a twenty-two county area. His approach to problem-solving includes the collaboration of communities working together to form a stronger regional economy. Hendee serves as chairman of the Roundtable of Economic Developers, where he sets an excellent example to his peers of how working in cooperation will benefit the entire northwest Missouri region.
Lee Langerock, Nodaway County Economic Development Director, said it is very fitting that Leadership Northwest Missouri chose to recognize Hendee for his consistent involvement in the region. "He leads us with professionalism and a genuine caring attitude for all our communities. Shellby inspires people to brush off apathy and become involved."
Hendee is a graduate of John J Pershing College in Beatrice, Nebraska. He owned and operated radio stations in Cameron, Richmond and Lexington for 27 years before receiving his CED certification from the Economic Development Institute, University of Oklahoma in Norman, OK. He is active with Cameron Chamber of Commerce, Sertoma Club, Missouri & International Economic Development Councils and serves on the board of Cameron Regional Medical Center. In addition to his regional involvement, Hendee regularly presents to Leadership Northwest Missouri class participants on various economic development issues.
---
2006 Recipient – Dr. Bob Bush

Dr. Bob Bush got a big surprise at the graduation ceremony for Leadership Northwest Missouri. The group brings together emerging community leaders from several northwest Missouri counties for training on a variety of issues regarding leadership, economic impact, and infrastructure. Dr. Bush, a major component in bringing life to the group, received special recognition at the graduation ceremony held at the Benton Club in St. Joseph. Steve Schieber, Director of Regional Development for Heartland Health and a Leadership classmate of Dr. Bush, said the group wanted to start recognizing vital people in the community. Everyone agreed Dr. Bush should be the first. "There is no question," Mr. Schieber said. "Dr. Bush is the patron saint of what we envisioned this should be… he doesn't just talk the game, he actually lives it."
Dr. Bush's list of accomplishments runs long. A former teacher/principal in the St. Joseph Public School District, he went on to work for NASA as an education programs officer and project manager. At Northwest Missouri State University, he served as a teacher, executive assistant to the president, and helped develop university policies. Dr. Bush's other notable accomplishment is his role in bringing the biomass energy plant to the university. The plant uses wood chips and paper waste to heat and cool the university. He is an alum of the first class of LNWMO, Class of 2001.